4 Channel Apache FeralBeast AH64 Military RC Helicopter
4 Channel Apache FeralBeast AH64 Military RC Helicopter
4 Channel Apache FeralBeast AH64 Military RC Helicopter
Availability:
Off line product
Shipping:
$40.00 (Fixed shipping cost)
---
Product Description
4 Channel Apache FeralBeast AH64 Military RC Helicopter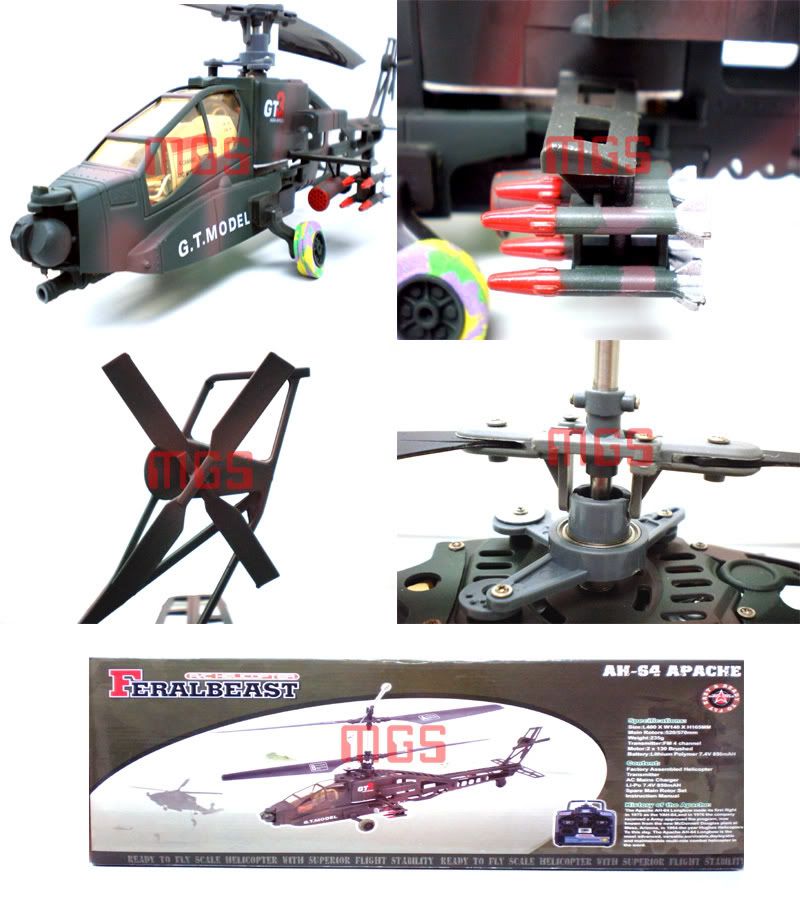 Video



Brand New Electric R/C Ready-to-fly Apache AH-64 Longbow Co-Axial Helicopter
There has never been true radio control (not tethered) micro helicopter as stable as this Apache AH-64 Longbow Military Helicopter. The reason is because its flight characteristics are so stable, which features unprecedented precision control, such that it can be flown from room to room, or from tabletop to tabletop within the confines of your house! What gives it such gentle flight characteristics is its twin, counter-rotating, main rotor blade design that totally cancels out main-rotor torque forces normally encountered with traditional helicopter types. With conventional designs the main rotor torque effect, which is not only strong but also constantly changing with throttle changes, must be dealt with using the tail rotor. Mastering this takes a lot of time, and can make learning how to fly a conventional helicopter frustrating. That is, until now!
With this Apache AH-64 Helicopter, the difficulty problem normally associated with learning how-to fly a helicopter—Disappears! No matter what the throttle setting is, the helicopter remains stable! You'll be performing indoor rescue missions using your coffee table as "base of operations." There has never been a helicopter, no matter what the size, so easy to fly! There are not many of these running around, so grab one when you can!
Specfication:
Main Rotor Diameter: 13.75" (350mm)
Tail Rotor Width: 2.25" (57mm)
Length: 15.75" (400mm)
Height: 6.5" (165mm)
Width: 5.5" (140mm)
Max. Weight: 235g
Transmitter: FM 4 Channel
4 Channel R/C: Left/Right, Up/Down and Pitch Control
Power System: Two (2) Type 130 Motors
Helicopter Battery Charging Time: 1~2 Hours
4 in 1 Controller: Gyro + Mixer + ESC + Receiver
Two (2) High Quality and High Speed Servos (7.6g) and Inside Gyro
Main Battery Type: 7.4V 850mAh Lithium Polymer Rechargeable Battery
Included:
Apache AH-64 Longbow R/C Helicopter

4-CH Radio Transmitter (8 AA Batteries are not included)

7.4V 850mAh Li-Polymer Rechargeable Battery Pack (For Helicopter)

Two (2) Extra Pairs of Main Rotor Blade

Home AC Charger 220V ac 2 pin euro type
---
Find Similar Products by Category
---
Customers Who Viewed This Product Also Viewed